How to Properly Measure – Video Tutorials
Determining Your Suit Size
Below you will find helpful information to assist you with determining your suit and/or shirt size. If you need additional help, please feel free to call us at 919-981-6222.
How to Measure for a Man's Suit – 3 Important Measurements
A suit jacket size is determined by measuring the thickest part of a man's chest in inches. First, begin by measuring just under your arms, across the chest, and over the shoulder blades. When measuring, it is important to keep the tape measure parallel to the floor. This will help to assure you are measuring the thickest part of the chest area. Second, it is also helpful to take an overarm measurement. To take this measurement, place the tape measure over the outside of the arms across the thickest part of the chest. Once you have this measurement subtract 7 inches to receive a corresponding chest measurement. Then, compare this measurement with the chest measurement and take the larger of the two. Third, trouser sizes are determined by measuring the waist at the belt line. In most cases, the belt line will be found just on top of your hip bones.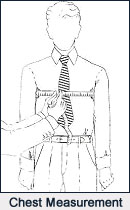 Big Difference Between Jacket Size and Trouser Size?
Is the difference between your chest size and trouser waist size is more than 8 inches? Or, do you find the sizes you need in between two different types of suit cuts? If so, you are a good candidate for suit separates. With suit separates you choose the coat size and the trouser size to create a suit that fits your body.

Neck/Collar Size: Taken around the neck, as per picture giving slight allowance for comfort and fabric shrinkage. If you are ordering Overton's Road Warrior do not over allow for shrinkage as the TLC (The lifetime collar) prevents it from shrinking.
(You should be able to put at least one finger inside the tape measurement of your neck for a nice comfortable feel)
Sleeve Length: With your arm held in a right angle parallel to the floor measure from the middle of your back to an inch past the wrist bone/knob
(If you are in between a measurement please round up Ex. 33.5″ round up to 34″ sleeve length)